THE TOUCHED SAGA
An International Bestselling series with over 200,000 copies sold.
40 MILLION pages read. 2000+ five-star reviews on Amazon and Goodreads.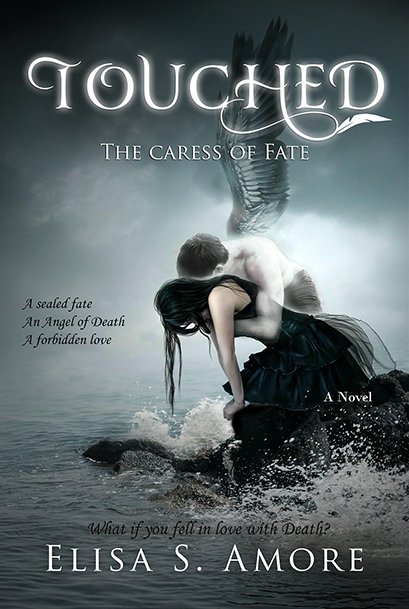 TOUCHED: The Caress of Fate
Book #1 in the Touched saga
Evan is an Angel of Death and his task is to kill Gemma because her time has come. But what if he falls in love with her? Can love rebel against fate?
"Beautiful, riveting, and damn romantic." ★★★★★
"These two are the new Romeo and Juliet." ★★★★★
"Every single page is magic. It makes you dream and leaves you in suspense." ★★★★★
"Enough with vampires, enough with werewolves, the new masters of fantasy are the Angels—and not just any Angels, but Angels of Death." ★★★★★
Visit the official site to discover games, quizzes, book trailers, and much more at: www.touchedsaga.com
UNFAITHFUL: The Deception of Night
Book #2 in the Touched saga
After The HUGE Success Of Touched Comes A New Heartwrenching Novel In The International Bestselling Series That Will Touch Your Heart And Leave You Breathless.
What are the consequences of cheating Death?
Five months have gone by since her last encounter with Death, and in spite of having experienced the most intense period of happiness in her life at Evan's side, Gemma's instinct reminds her that the game is far from over. Evan, overconfident, lets his guard down, revealing an unmentionable secret–an error that can be paid for only with blood. Death returns to claim Gemma, sending its faithful servants to kill her. Desperate, Evan will do anything to save her, but the menace will seek them out even where they feel safest . . .
The challenge between passion and death will pit the protagonists against each other. In the face of jealousy, betrayal, and emotional devastation, Evan and Gemma find it isn't easy to escape their fate.
"The most passionate saga of recent times." −Coffee and Books ★★★★★
"I got lost in this book. It totally took me out of the real world." −Cristina★★★★★
"When I read it everything else faded away and nothing seemed real but the book. −Ilaria★★★★★
BROKENHEARTED: The Power of Darkness
Book #3 in the Touched saga
From the author of the #1 bestseller TOUCHED comes the highly anticipated third episode of the saga that has bewitched thousands of readers around the world.
Nightmares. Premonitions. Dark Secrets.
DEATH HAS NEVER BEEN SO CLOSE.
How can you go on living if the person you love is gone? Consumed by grief and remorse, Gemma Bloom wonders that day after day. Evan defied the laws of Fate to save her, paying dearly for his disobedience: falling into the trap laid by an Angel of Death, he was poisoned by Gemma's own lips. Since that accursed kiss, she has been inconsolable, tormented by nightmares and hallucinations in which Evan is tortured by invisible hands.
Just when Gemma believes she's losing her mind, a deep, seductive evil begins to entwine itself around the fragments of her broken heart. Horrified at first, Gemma finds herself gradually drawn to this new emotion. A terrible, mesmerizing power seems to be growing inside her, threatening to take possession of her soul. Tormented by frightening premonitions and dangerous secrets, Gemma will have to summon all her courage if she wants to challenge Fate and resist the power of darkness.
A journey through dark, forbidden worlds, beyond the limits of fear. Are you strong enough to tempt Fate?
"Intense, exciting, thrilling. A journey through impossible worlds, full of revelations, crises, and blood feuds. The story of a love that can withstand anything." -Coffee&Books blog ★★★★★
"Elisa weaves many genres together in this special, unique story—fantasy, romance, gothic horror. She's created a masterpiece." –Valentina, Goodreads ★★★★★
"An amazing plot line, like nothing I've ever read before." –Damiana, Goodreads ★★★★★
"It's a complex, perfectly woven tapestry of magic, action, myths, legends, and overflowing love."−Kaiko, Amazon ★★★★★
EXPIATION: The Whisper of Death
Book #4 in the Touched saga
One great sacrifice will end it all—but can true love ever be forgotten?
Prepare yourself for a journey with no return.
How can you look forward to the future when you know your days are numbered? Gemma has asked herself that every night since making her fateful pact with Sophìa, queen of the underworld. Three days after giving birth to her child, Gemma must return to Hell and be transformed into a Witch, erasing her past and surrendering herself to Evil. This is the price she's agreed to pay in exchange for bringing Evan back to life and ensuring the safety of their child. Evan, however, refuses to accept her agreement. He's convinced that together, they can overcome this new challenge. His deepest fear is different: he knows the Angels of Death will do everything they can to kill Gemma before she becomes a Witch. Pursued by unrelenting danger and dark secrets, Evan and Gemma ready themselves for the ultimate bloody battle to defend their love.

How far will you go to save the person you love?
"Intense, exciting, thrilling. A journey through impossible worlds, full of revelations, crises, and blood feuds. The story of a love that can withstand anything." -Coffee&Books blog ★★★★★
"Elisa weaves many genres together in this special, unique story—fantasy, romance, gothic horror. She's created a masterpiece." –Valentina, Goodreads ★★★★★
"An amazing plot line, like nothing I've ever read before." –Damiana, Goodreads ★★★★★
"It's a complex, perfectly woven tapestry of magic, action, myths, legends, and overflowing love."−Kaiko, Amazon ★★★★★
Sign Up to Elisa's mailing list