I've never shared this information before but I think it's time to let you know how my writing career really started.
When my husband and I married, we didn't have the money to buy a computer. Our first Christmas together, though, I found a laptop under our Christmas tree—the most beautiful laptop I had ever seen. And it was mine. I'd really, REALLY wanted one and my husband knew it. I had no words. I cried with joy but I was also sad because he was going to pay for it in tiny installments every month.
That same year, a sad event had such an impact on me that I ended up in the hospital: it was my first experience as an adult with death. I needed to bring out my fears to try to analyze them. So, a few months later, on that laptop, I wrote the first draft of Touched. I had never written a whole book, and it was a new experience: thrilling and full of emotion. I soon realized I couldn't stop writing, and finished books two and three in a few months. At that time, I was in love with the TV show 90210, and one of its main characters, Liam Court (played by actor Matt Lanter), inspired the main character in my book, Evan.
Writing the book helped me to overcome my loss and my fears, since it's primarily focused on death as it hangs over the protagonist and on the way she deals with this fate, growing and learning to fight those fears which made her a prisoner of herself. I created the Angels of Death and the charming Witches as symbols of good versus evil in the eternal battle to claim human souls. One of those souls is Gemma's, and Evan has been sent to claim it because her time has come. Until he falls in love with her . . .
I knew the story had potential, and my biggest dream was to reach English readers because I've loved the US since I was a child. I sent out queries to foreign agents, but they all said no or simply ignored me.
Despite the rejections I received, I refused to give up and decided to go ahead on my own. Translations are very expensive—a fact not everyone knows—but I had so much faith in Evan and Gemma's love story and was SO anxious for them to reach new readers around the world that I couldn't deny them the chance.
It took me four years of hard work to save enough money for a good translator and editor just for the first book. I didn't know if I would be able to translate book two though. I was scared because I didn't know what would happen with book one, if I would lose my money and by extension, the trust of my husband, who had supported me no matter what. The English market was completely unknown to me, so it was more difficult to approach it. It was a risk, a big one, but that's what following your dreams with all your might means, right? I knew I was jumping into the void… and yet I hit "publish" after uploading the book to Kindle.
Touched climbed the Amazon charts quickly, becoming a massive bestseller. Thanks to its success, not only was I able to translate book two, but the entire saga, in just a few months.
I didn't expect such a HUGE success. The enthusiasm for my series has been something AMAZING and totally unexpected. And now something even more magical has happened: five years ago, I didn't have the money to buy a laptop to write my story on, and today, the actor who inspired the main character has become his voice in the audio edition of Touched.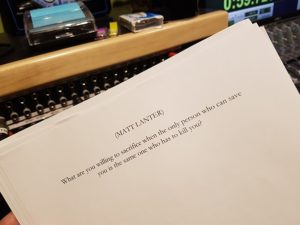 Timeless star Matt Lanter performs the part of Evan James in the audiobook of Touched. This is a dream I could never have hoped to achieve. While I was writing about Evan, channeling Matt's voice in my head, I could never have imagined that five years later I would be in the same room with him, listening to his voice bringing my character to life.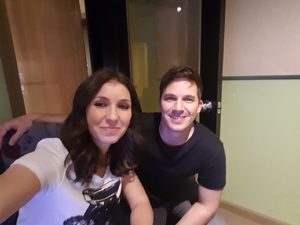 Here's a fun fact: the main character in the book is Evan, but there are also other characters Matt was asked to play. For example, if he inadvertently read a line of dialogue spoken by Evan in Drake's voice (another male character) and then realized it should have been Evan's voice instead, he always said "Sorry, that wasn't Drake, that was me." That's how good an actor he is: he actually enters the role. For those few days, in that recording room, he became the Evan who lives in my head. He melted my heart completely.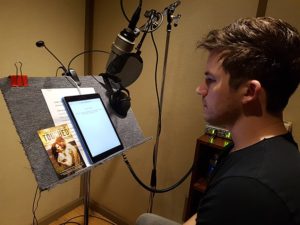 Five years have gone by since that first Christmas when I received my laptop. I still use it to write my stories and I will never forget how everything began.
Thank you, readers, for all your support. I am grateful to everyone who believed in me, in my project, in my dream. Above all, my most heartfelt thanks go to my husband, because he jumped into the void with me.
"Always follow your dreams and never give up, or they'll turn into regrets." – Touched
Check Out The special Audio Edition Featuring Timeless Star Matt Lanter and The Acclaimed Narrator of Twilight and Divergent Emma Galvin.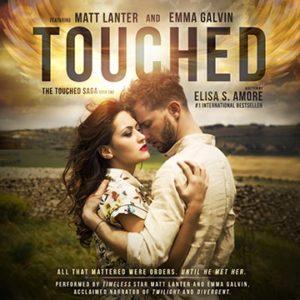 Translator of the TOUCHED saga: Leah D. Janeczko